Friend Country Club is truly a diamond in the rough.  This 9 hole golf course built in 1967 is challenging but fair to players of all skill levels.  Each hole has multiple sets of tee's to accommodate any level and skill of player and/or to change each hole to play differently to give you a truly 18 hole experience on a 9 hole layout.  The course has tree lined fairways, Green side and fairway bunkers and water hazards on 2 holes.  The golf course is manicured to perfection and everyone says has maybe the best greens in the state of Nebraska.
Come to FCC and experience the beauty and fun of playing on one of the best 9 hole golf courses in the state.  You will not be disappointed.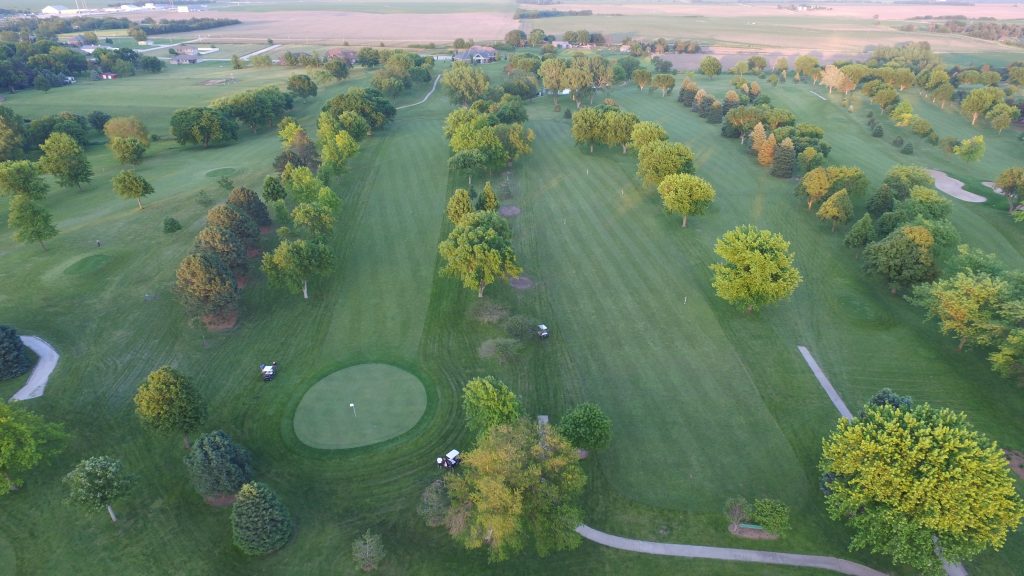 Hole #1
This starting hole is a par 5 with a slight dogleg to the left.  At 520 yards this hole is not terribly long, but has a few challenges that can provide  great risk vs. reward decision making.  A good tee shot to the right side of a fairway that slopes away from the ideal 2nd shot position is a must if you want to take your shot at the green.  If you're too far left off the tee you are blocked from making a good attempt at the green by large cottonwood trees.  If you are in position from the tee you must carry your second shot over water that protects the green on the front with the green approach all sloping to the water.  RISK vs. REWARD..
Hole #2
This hole is a par 4 with a slight dogleg to the right.  Playing 350 yards this is not an exceptionally long hole but has difficulties just waiting for you to make a mistake.  You must be accurate off the tee if you want a short approach shot into the green, but if you miss the fairway either left or right you will likely have to punch out of the trees for your second shot.  You can lay up off the tee leaving you a longer approach shot into the 2 tier green.  If you are not on the correct level of the green putting can be difficult.  the green is protected front left by a small bunker and 3 larger bunkers behind the green are waiting for that shot that is too deep.